The BE Wild! initiative follows a study of 1,000 parents by Beyond Escapes which found that over a third, 36 per cent, of UK mums and dads don't think their children spend enough time playing outside.
Whilst parents themselves nostalgically remember tree climbing (19 per cent), den-making (17 per cent), playing hide and seek (12 per cent) and even making mud pies (5 per cent of them!) as some of their favourite childhood activities, they don't think their own kids get outdoors enough…and are looking for ways to get them off their smart phones and engage with the wild!
Although many parents, 32 per cent, have built dens with their children during the past six- months, these are made from mainly sheets, curtains, chairs and towels; indoors, in the lounge! In fact, 52 per cent of all dens are now made at home in the bedroom, playroom or lounge, with only 23 per cent made in an outdoor space! So, now is the time to turn this around to bring back true the true den building experience!
Mark Sears, from The Wild Network and Director of Dens at Beyond Escapes, commented: "Beyond Escapes approached us with this great idea to introduce complimentary den making kits to hire at their Devon resort, which we have helped advise on. Getting kids outside, detoxing from their smart-phones and tablets and ultimately rewilding them is what we are all about and we have seen more and more parents join us to encourage families and communities to do just that with positive results.
"Beyond Escapes has the perfect setting with acres of land, sea views and plenty of flora and fauna. Families, or even big kids can enjoy some fun time foraging, building and getting involved with nature in their own time. I'm sure it will be a huge success and is a fantastic activity whatever the weather."
For those keen to get den building in their own garden, or to practise their den building skills before visiting Beyond Escapes, Devon, follow these key steps produced by BE Wild!
1. Find: Locate your perfect den spot
2. Forage: Source the material you want to use to make your den
3. Foundation: Pick your base tree to build your den around
4. Frame: Construct your den frame
5. Finesse: Add the final personal touches to your den
6. Fun: Games to play with your new den
7. Friends: Make den friends and have lots of adventure
Jason Bruton, Managing Director at Beyond Escapes, said: "Our new den-making initiative was designed following a study which found that families were crying out for a reason to enjoy their nostalgic childhood activities, whilst simply getting outdoors.
"With its breath-taking views, stunning beaches and abundance of natural attractions nearby, Beyond Escapes Devon is the perfect location for families to get outdoors, whilst still having the luxury of staying in high-end boutique accommodation. We welcome everyone staying to make their very own Devonshire Den, just hire the kit and get building!"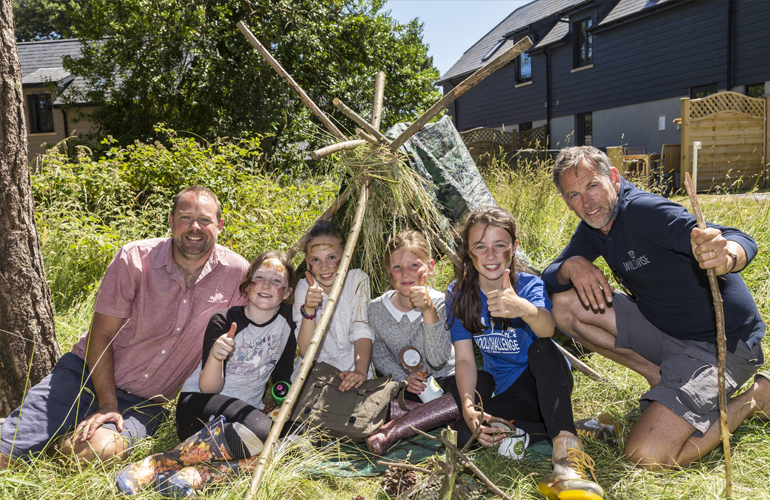 Helena Wiltshire, from Save the Children, added: "We're thrilled that Beyond Escapes will be supporting Save the Children's Den Day. The BE Wild! 're-wilding' initiative is a fantastic way to encourage families to spend quality time together, get creative and build some dens this summer. We hope lots of families get involved and have some fun, whilst raising as much money as possible!
"The funds raised will enable Save the Children to help transform children's lives and provide them with the things they need to grow up healthy and happy, like a safe place to shelter or a vaccination to protect them from pneumonia. All children deserve the opportunity to fulfill their potential."
Beyond Escapes, Devon, set in the glorious South Devon hills, offers luxury self-catering accommodation options ranging from one bedroom BE Chic Studios to BE Deluxe Mansion Suites and two, three and four bedroom BE Deluxe Lodges complete with their own private hot tubs, as well as dedicated pet and baby friendly lodges. Top-class facilities on-site include the BE You Spa and Gym, and BE Tempted Restaurant serving locally-sourced dishes as well as offering tempting takeaways and hearty breakfast packs delivered directly to your accommodation.
For more information or to book, call 0333 230 4538 or visit website beyondescapes