Mums on a Mission…
Totnes on its way to becoming UK's most breastfeeding friendly town as World Breastfeeding Week begins
As World Breastfeeding Week begins on Wednesday 1st August, two mumpreneurs from Devon are delighted to announce that they are on their way to making Totnes the UK's most breastfeeding friendly town.
On a mission to improve breastfeeding rates in the UK, which has according to UNICEF some of the lowest in the world, working mums Lisa Lessware and Philippa Doyle launched their 'Breastfeed Here with Confidence' scheme in March.
Widely known for its unique vibe and independent spirit, nearly every cafe and eatery on Totnes high street is now displaying the latest breastfeeding friendly badge. Over 40 cafes, eateries and businesses have signed up to the 'Breastfeed Here with Confidence' scheme in Totnes alone, all highlighting their support of breastfeeding mums.
Both the NHS and UNICEF list embarrassment at feeding in public as a major barrier to breastfeeding and Lisa and Philippa wanted to do more to minimise this, helping mums be safe in the knowledge that they can do so with confidence.
Lisa and Philippa are welcoming nominations for new establishments to display the badge. Gathering with local mums in Totnes to celebrate putting Totnes on the map as the UK's most breastfeeding friendly town, they said –
"We want to say a huge thank you to everyone who has been so supportive of the scheme, we've been overwhelmed by the positive response and passion to show support to breastfeeding mums. The 'Breastfeed Here with Confidence' scheme is so important not just for mums, but to let all customers and diners that walk through the door to know that it is a breastfeeding friendly space. The more women who feel able to breastfeed confidently in public, the more normal it will become."
Lisa and Philippa celebrate putting Totnes on the map as one of the most breastfeeding friendly towns in the UK with local mums, ahead of World Breastfeeding Week (1-7 August)
The family friendly destination store, Dobbies Garden Centres, became the first official national retailer to sign up to the Bshirt 'Breastfeed Here with Confidence' scheme during National Breastfeeding Week in June, with the badge becoming a permanent fixture in all 34 centres throughout the UK.
The scheme has been commended by leading breastfeeding specialist, trained nurse and midwife, Clare Byam-Cook. Author of the top breastfeeding guide 'What to Expect When You're Breastfeeding and What If You Can't?', Clare is a regular main speaker at The Baby Show and an expert on many sites including Annabel Karmel. Commenting on the launch of the latest scheme, Clare said:
"It is well-documented that many mothers feel apprehensive about breastfeeding in public. I am delighted to support this initiative, which I hope will encourage more mothers to feel confident that, whenever they see this badge they can be assured that breastfeeding is encouraged and they will receive a warm welcome. I hope this idea takes off and that many businesses will display this badge."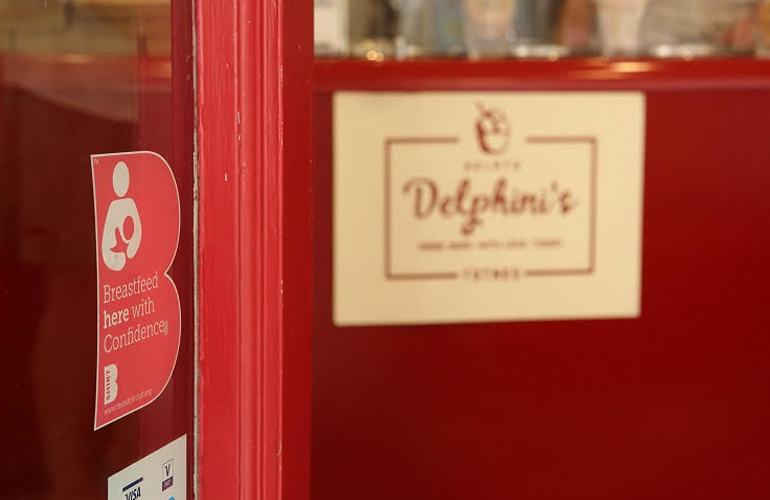 The 'Breastfeed Here with Confidence' badge on display at Delphini's Gelato in Totnes
Signups in Totnes range from cafes, restaurants, business and shops, including – Rumour, The Curator Cafe, Waterside Bistro, Hairy Barista, Maisie's Cafe, Hill House, Mange Tout, Saveurs, South Hams Citizens Advice Bureau, The Old Bakery, Pie Street, Room 101, Seeds Bakery, The Cornish Pasty Co, Delphini's, Zero Waste, Woods Bistro, Rare Breeds Farm and Willow to name just a few. In and around the South Hams, the response has been equally positive with the likes of Riverford Field Kitchen and The Venus Company displaying the badge.
With the world spotlight on breastfeeding, the news follows the US announcement that it is now legal to breastfeed in public everywhere in the United States, following the passing of laws to legalise public breastfeeding in Idaho and Utah.
Lisa and Philippa are looking forward to welcoming even more businesses to the scheme in the South Hams and beyond to help women in the UK breastfeed with confidence.
To read more about the Bshirt's 'Breastfeed Here with Confidence' scheme, register interest or nominate a venue to display the badge, visit breastfeedwithconfidence.org.uk.